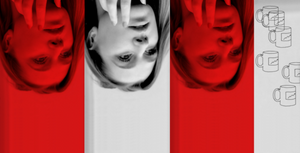 Wrath
Razor-Sharp. Volatile. Ruthless. Business As Usual.
This event has now passed. 
This is the dog-eat-dog world of high stakes business and newbie Henry has just entered the hornets' nest. Trust no one. Suspect everything. Everyone's a threat on the ladder to success and CEO Ms. Stockwood isn't taking prisoners. So when a suspicious discovery is made in the boardroom, all hell breaks loose…
WRATH is a deliciously satirical roller coaster that threatens to go full pelt off the rails. What is the cost of making it? What do we sacrifice in staying silent? Who do we become on the brink of our humanity? This subversive trip down the rabbit-hole promises a no holds barred attack on the powers that influence us. Delectably black and shamelessly irreverent, this new work from an explosive ensemble is not to be missed.
By Liam Maguire
Produced by JackRabbit Theatre
Assistant Directed by Andreas Lohmeyer
Poster Design by Alexandra Stevenson
With Madeleine Vizard, Louisa Wall, Adam Sollis, Jonny Hawkins and Elle Mickel
Find out more about the Kings Cross Theatre