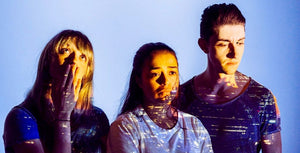 Youth + Destination
Across the city the people go about their lives>
This event has now passed.
A pair of accountants pour over the numbers that define our lives, a woman is confronted with the casual oppression of her colour, a child recognises the weakness of a parent, a celebrity abuses the power of popularity, a young man grapples with the unnerving attraction of violence, a woman accepts the finality of her illness, a another mistakes a stranger for her lost friend, a couple considers the consequences of bringing a child into an uncertain future. Moment after moment, these are people of our planet.
A poignant collection of fleeting glimpses of the overwhelming world we live in. All important, all unimportant, all different and all alike. Youth and Destination features those on earth, wading through a mess of modern society. .
The dream that is the world.
With: Jack Angwin; Georgia Blizzard; Gloria Bose; Julia Christensen; Maree Cole; Skyler Ellis; Alex Malone; Bardiya McKinnon; Nikita Waldron; Ross Walker
Written and Directed by James Raggatt
Assistant Director: Joseph Raggatt
Stage Management: Ellen Castles
Lighting Design: Martin Kinnane
Set Design: Kyle Jonsson
Composer: Kiah GossnerS
Sound Engineer: Jules Tahi
Lockout policy: Latecomers are not permitted to enter during the performance and there are no refunds/exchanges with regards to latecomers.
KXT Meal Deal: Book a ticket to the Sunday matinee and get a 10% discount on food at the Kings Cross Hotel when you show your ticket!