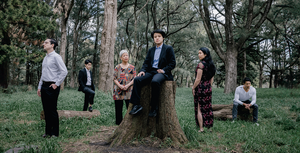 Boom
Boom
 reveals the struggle of the individual against the pressure to conform to the needs of the majority. 
This event has passed.
Boom tells the story of an elderly woman and her property agent son, Boon, who are struggling over the potential government reclaim of their home in Singapore. Boon's mother wants to remain at her old apartment and wait for her husband's return despite pressures from her neighbours to give in. Their destinies become interwoven with that of an idealistic civil servant, Jeremiah, who is facing the greatest challenge of his career – persuading a reluctant corpse to yield its memories.
Weaving in Hokkien with English, past with present, fantasy with reality, Boom is a comic yet poignant tale about sales and exhumations.
Join the creative team for karaoke following the performance on Friday 13 October.
Running time: 130 min (including a 20 min interval) 
Find out more about Boom. Presented by Slated Theatre and KXT.