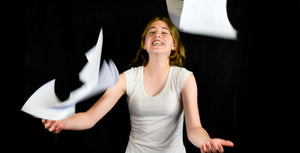 Cake
The worst party in the history of the world is currently underway in Carlton

 

and you're all invited! 
This event has now passed.
Can the local kids turn this shoddy soiree around? What happened to the host? And where's the cake?
Senior Ensemble reunites to devise and perform an original piece of work exploring their teenage world. Cake is a comic and heartwarming tale of missing out and miscommunication, of feeling like a fraud but acting super cool and of longing for connection while you are dancing on your own.
Find out more about Shopfront Arts Co-op