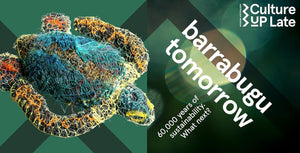 Culture Up Late: barrabugu (For Tomorrow)
Aboriginal guests examine how First Nations knowledge may be the key to a better shared future for all.
This event has now passed. 
Culture Up Late opens the museum after hours with a few extras including VR experiences, short and sweet tours, hands-on workshops, live music and performances. Enjoy a mid-week diversion with a bit of a difference! It's also the perfect opportunity to enjoy the latest exhibitions, during its quieter moments.
Live Music - Nainiouman
Experience the music of Weilwan and Gamilaroi educator, mentor, advocate, writer, storyteller, musician, performer, communicator, Rachel Shields which discusses sustaining knowledge and the environment.
Sharing Knowledges - Building futures: short talk
Join Wiradjuri biologist and educator, Renee Cawthorne as she discusses incorporating First Nations perspectives in STEM education.
Revitalising Practice
Hear Simon Penrose talk about his journey revitalising and strengthening his cultural practices.
Yarra: bite sized language lessons
Learn Wiradjuri in these bite size lessons with Wiradjuri man and language teacher, Aaron Ellis.
Spot Tour: IndigiHack
Question everything on the IndigiHack tour, which invites you to look at sustainability from a cultural perspective
Adorned
Create jewellery with natural materials with Charlie Williams.
Bush foods and medicine
Aboriginal staff demonstrate the beneficial uses of local flora, much of which is undervalued to the untrained eye.
Yarning Gadi
Uncover Aboriginal Sydney with Gadigal Man Joel Davison, s, as he discusses the Gadi narrative space.
Out of the Vaults


Join Rebecca Fisher as she illustrates how different Aboriginal cultural objects at the Museum challenge myths and stereotypes.

Live Conservation
Watch how the Museum preserves its collection with live conservation demonstrations by Museum staff.
Virtual Reality:CHASING CORAL
Coral bleaching is one of the most visible effects of climate change. See the changes to Australia's Great Barrier Reef with your own eyes in this VR experience: immerse yourself in the underwater seascape of the Great Barrier Reef before it disappears.
Mammoths: Giants of the Ice Age
Tickets include free access to the entire museum, including temporary exhibition Mammoths - Giant of the Ice Age
Running Time: 5:00pm - 9:00pm