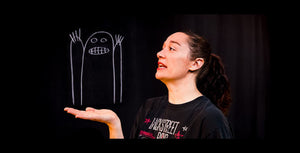 My Best Dead Friend
This is a story about my best friends.
Ok, no, this is actually mostly a story about me.
This event has now passed
December, 1998. Dunedin.
High summer in a town where there isn't a lot to do.
This is a comedy about death, revolution, unfulfilled love, and a possum.
My Best Dead Friend is a true story about heart-breaking grief and enduring friendship featuring a soundtrack from The Verlaines to the Backstreet Boys, and the words of Tuwhare, Baxter, and Bishop. It's a joyful comedy from a heavy heart.
An "authentic and brilliant" storytelling comedy show, My Best Dead Friend is created by Anya Tate-Manning (Hudson & Halls Live!) and Isobel MacKinnon (Best Director, 2015 NZ Fringe Festival). It was first performed in 2016 at Perth Fringe World at the prestigious Blue Room Theatre, where it was nominated for the West Australian Arts Editor's Award.
The Risky Stuff:  This production contains mild coarse language. Suitable for ages 12+ years.
Running Time: 1 Hour (No interval) 
Presented by Zanetti Productions at Riverside Theatres