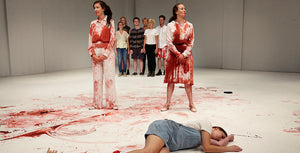 Oedipus Schmoedipus
Oedipus Schmoedipus

 
is about death: real death, fake death, and the Western theatrical canon. 
This event has now passed. 
Fed up with white men staging the deaths of white men in plays written by white men, the white ladies of post have pirated the classics to confront the great unknown.
It's joyful and dark, stupid and smart, hilarious and confronting.
An ambitious epic and an intentionally impossible task, Oedipus Schmoedipus takes dozens of the great theatre classics, picks out the death scenes, mixes them together and hands them back to the people.
For this mammoth undertaking of gore, laments and requiems, post are joined by a new cast of 25 locals for each performance. It's a democratic theatrical extravaganza – there really isn't anything quite like it.
Straddling live art, theatre and contemporary performance practices, post take being silly very seriously, and have a real commitment to innovation. Their deep irreverence for the institution of theatre and deep reverence for the magic moment of the liveness it houses has amused, bemused and probably annoyed audiences for the past ten years.
You can be part of it! Click here to apply
Running time: 70 minutes
The Risky Stuff: violence, realistic blood effects, coarse language, strobe lighting
Find out more about Casula Powerhouse Arts Centre