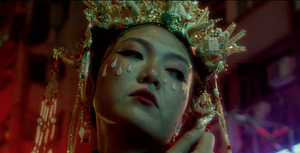 Liveworks Festival 2023: The Bridal Lament
The Bridal Lament
 is an ambitious new performance and music project by award-winning vocalist, producer and multi-disciplinary artist Rainbow Chan 陳雋然.
This event has passed.
Drawing on her Weitou ancestry (first settlers of Hong Kong), the work reimagines a Weitou ritual known as the bridal lament, a public performance of grief in which a bride wept and sang in front of family and friends. Brides expressed bitterness towards their arranged marriages and the patriarchal rule in this liminal space. The work, conceived and structured as a song cycle, brings to life intergenerational and cross-cultural perspectives on diasporic experiences and the complex history of Hong Kong. Featuring a suite of new songs from Chan, The Bridal Lament pays homage to the Weitou ritual, bringing to life a dynamic world of projection, movement and colour.
Running time: 65 minutes
Auslan: AUSLAN Interpreter on 20 October only
Find out more about The Bridal Lament. Presented by Performance Space.