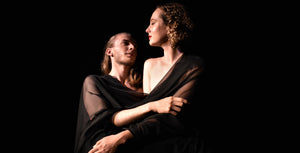 Venus in Fur
You don't have to tell me about sadomasochism. I'm in the theatre. 
This event has now passed.
Thomas Novachek has had a long day to say the least, auditioning a living panoply does take its toll. He's headed for the door when Vanda crashes in. Gaudy and flustered. Despite his reservations, Thomas begins to audition a woman who will change his life forever...

'Venus in Fur' by David Ives is a complex exploration of sex and power. A battle of minds and motives, 'Venus in Fur' shifts the boundaries between the real and the imagined. This witty and ensnaring exploration of the changing power balance between men and women; between sex and intellect, will be coming to the Performance Space at 107 from the 10th - 13th of April, 2019. Join us as we explore these sensitive topics and themes which demand maturity as we tell a story of the power of our desires to both empower and repress.

This production is brought to life thanks to the generosity and support of the USU Bright Ideas Program and Max Black Store, Newtown.
Find out more about 107 Projects